Although he currently plays Dr. Cooper "Coop" Freedman on ABC's hit medical drama Private Practice, but you may recognise Hollywood actor Paul Adelstein from a number of other things. Paul made his film debut in 1990 with The Grifters and since then he has been in a number of popular titles including Bedazzled, Scrubs and Prison Break, where he played Paul Kellerman for 46 episodes.
But Paul is more than an actor. He's also a talented musician, and he has composed original music for New Crime Productions, the Defiant Theatre, and Live Bait Theatre. Additionally, Paul wrote and scored original songs for the HBO short-film Mullitt, which appeared at the Sundance Film Festival. Paul's second career is writing and performing music with L.A. band Doris, who released their album "All The Details" February 2012.
Paul took some time to talk to us about his career, his music, and making a life in Los Angeles.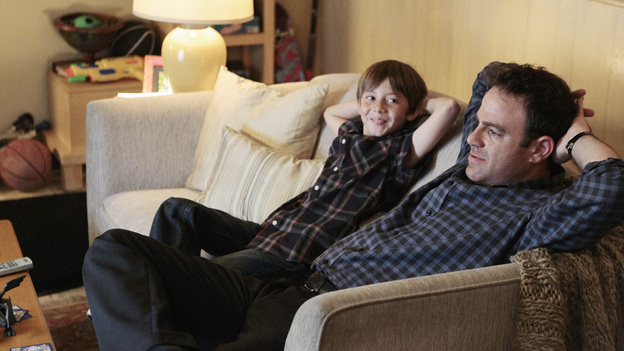 Paul Adelstein in Private Practice © 2012 American Broadcasting Companies, Inc. All rights reserved.
Tell us a bit about yourself. How did you get into acting and music? Which came first?
Well, I'll say music came first because I don't remember a time when I wasn't banging on the piano or pots and pans.  But I always acted in school too.  I took piano lessons, which I was pretty awful at, but started teaching myself the songs I loved when I was in 7th or 8th grade.  That's when I played in my first band.  I was always acting in school and even at summer camp.  I went to a liberal arts college and continued acting.  The summer between sophomore and junior year I was given the opportunity--in a very lucky, roundabout way--to go watch New Crime, a com media dell'arte company in Chicago, workshop for a few weeks.  I swept up, changed lights, and very tentatively asked if I could get on stage.  They said yes.  I was invited back. When they made cuts for the play they were doing in the fall, I made the cut.  I was totally shocked and totally hooked.  And that's the same summer I started a band with some friends from high school.



We've seen you in a number of things including "Scrubs" "Memoirs of a Geisha" and "Bedazzled." When you were daydreaming about acting did you ever think you'd end up in such notable features?
Well, you certainly dream about working with the people you admire, and I have gotten to do that, at times.  I am very lucky to have many 'oh my god I can't believe I'm talking to, let alone working with this person' moments.  I mean, Harold Ramis--who directed Bedazzled--had a huge influence on me and my friends growing up.  Working with him was fantastic and, after I puked a couple of times, actually quite easy; because here was a person who had actually helped form my sensibility, so I felt like I knew what he liked and didn't.  Of course, sometimes I was way wrong, but that's part of the fun.  Also, I've been lucky that most of the people I've admired and gotten to work with are genuinely nice people.

How did you end up with your current role on ABC's "Private Practice"?
I had meeting with the creator of the show, Shonda Rhimes, her producing partner, Betsy Beers, and the casting director, Linda Lowy on a Friday.  On Saturday I got the offer.  It's one of the only things I've ever gotten without having to audition.  I still can't believe it.  Suckers.



You have some great cast-mates. What's it like working on the show? What's a normal day on the set like?
It's like hanging out in homeroom in high school, basically.  There's a lot of goofing around.  It's a remarkably talented group of people who care about their jobs and take it seriously, but nobody really takes themselves that seriously.  And one of the great things about working on a set is that there is no normal day.  It's always different, sometimes only slightly, but just enough to never be boring.  I also think that everyone in the cast knows that these kinds of jobs are rare--let alone these kinds of jobs that exist in a good working environment.

Have you ever told someone "I'm not a doctor, but I do play one on TV?" If so, how did they respond?
Are you kidding? Almost everyday.  When I used to audition for doctor shows and not even get them, I would say "I'm not a doctor but I almost played one on tv."  Now I get to actually say it.  Most people don't think it's that funny.  It still cracks me up.


Out of all the roles you've played, which are the ones you enjoy the most?
I played a character named Glad in a play called 'Goodbye Stranger' at Steppenwolf a while ago.  There was something about being that person every night that was fun and cathartic--sometimes a role drains you, but this was invigorating, for some reason.  I loved playing Wrigley, George Clooney's sidekick, in 'Intolerable Cruelty.'  Getting to be that broad on film is so rare and can be scary, but it was written and directed by the Coen brothers and every scene I was in I was working with Clooney, so I was in very very good hands and it just felt as natural as could be.  And Agent Kellerman on 'Prison Break.'  There was something about that that brought me back to playing cops and robbers as a kid.  It was just so fun to play somebody who won almost every battle--literal or figurative--that he was in.



Tell us about your band Doris. How did the band start and how did you meet your band-mates?
I started Doris in the late 90s in Chicago with some friends I had been in other bands with.  When I was going back and forth I would still play in Chicago with Doris and with David Singer & The Sweet Science (some folks in both bands).  When I moved to L.A. permanently it was harder to play as much as I wanted to, obviously.  Then a friend of mine introduced me to Zak Schaffer, a great bass player, and he really encouraged me to hire some guys and go in the studio.  And I was pretty skeptical--I had always played music with my friends and had a real suspicion of hiring musicians.  But Zak knew my music and picked the perfect band, and we just hit it off.  So, on All The Details, the album I just released, you have both the guys from Chicago and the guys from L.A. playing on different songs and even together on some of the same songs.  It worked out well.  I think the musicianship is great across the board.



Why did you pick the name "Doris"? Is there any special meaning behind it?
Well, it's my mom's name.  When we were talking about names somebody threw it out there as a joke and it stuck.  I was kind of against it but I could tell my protestations were futile.



What's your favourite venue to play in L.A.?
I really like the M-Bar.  It's not always a music club so the sound system isn't amazing, but the room itself is so fantastic.  They serve dinner in red leather booths and there's a baby grand piano on stage.  I've been comfortable there.



Are there any reoccurring themes in your music?
My sister says I'm always using water imagery and sun imagery.  I don't know about that.  I think I write about relationships a lot.  What happens between 2 people is fertile ground for writing a 3 minute song.



Doris' new album recently came out. What can people expect when they gear up to listen to it?
Somebody told me it was 'come for the music, stay for the lyrics' music.  Somebody else said it sounded like Elton John and Paul Simon went to synagogue together.  I'll go with those.



What's next? What can we expect from you in the coming months?
I'm going to be playing a bunch of shows in L.A. and hopefully some in Chicago, New York, and S.F. too.  And I have some new songs I should record.  I'll also sleep a lot, hopefully.  I just found out today I didn't get a movie I was up for, so I guess I won't be doing that--haha.  But there's another one in the hopper that could be great if it happens.  And then back to Private Practice--or not.  I won't know if it gets picked up until May.  That's life in the circus.  Down-time is great--if you know you're going back to work.